The #2 Rated Joint Product: Joint Advance
Joint Advance - #2
Joint Product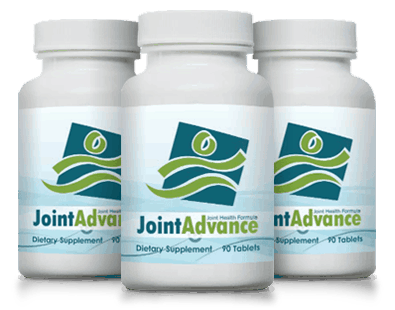 Supplement Facts
Servings Size: 3 Tablets
Servings Per Container: 30
Amount Per Serving
%DV
Glucosamine Complex
1500mg
*
Glucosamine HCL
Glucosamine Sulfate
Chondroitin Sulfate
1200mg
*
Vitamin C (as ascorbic acid)
90mg
*
MSM
900mg
*
Ginger
100mg
*
White Willow Bark Extract
100mg
*
(20% Salicin)
*Daily Value (DV) not established
Joint Advance aims to protect your joints from the consequences of working and playing too hard. Most of the ingredients in Joint Advance are natural and pure, which gives consumers a good idea of its quality.
EDITOR'S RATING
38 User Reviews
Introduction
In our #2 spot for our Top Joint health products is Joint Advance. This product aims to protect your joints from the consequences of working and playing too hard. Along with other products that we have reviewed, we have chosen Joint Advance because most of its ingredients are natural, which gives the consumers a good idea of its quality. If you are wondering whether or not this product lives up to its claims or if it's ideal for you, please keep reading this review to learn more.
Ingredients
While not all natural, most of the ingredients used to make this supplement are mostly herbal components, and are listed below.
Glucosamine Complex
Glucosamine HCL
Glucosamine Sulfate
Chondroitin Sulfate
Methylsulfonylmethane (MSM)
Vitamin C
Ginger
White Willow Bark
Dosage
The product is in the form of tablets. Best results are obtained when taken three times a day, which is one in the morning, one in the afternoon, and one at night. Children under the age of 18 should not use this product.
Possible Side Effects
The manufacturer has not mentioned any potential contraindications when taking this product. Bases on the clients' testimonials, there have been no reported side effects from taking this product. However, some ingredients are derived from seafood so that those that are allergic should not take this supplement.
Price
According to our sources, Joint Advance is now priced at $39.95 a bottle containing 90 tablets, which is good for a month's consumption. They have two other packages: 3 bottles for $79.90 and 5 bottles for $119.85. They offer free shipping service for all multiple bottle orders. Included in a potential client's order are two free gifts that include: The Joint Protection Diet Guide and free lifetime membership access to their results-based online fitness program.
Guarantee
The manufacturer offers a 90-day return policy on any unused and unopened items purchased, if clients do not experience the desired effects or if other problems occur.
According to clients' reviews, they have been mostly positive and they are thankful for the additional incentives that come along with purchasing this product. Also, clients seem to be happy with the shipping service since it has been fast.
Conclusion
The 90-day guarantee is a very important aspect when buying items online because not all supplements suit a person's needs and a client may not be satisfied with the product, so the 90-day guarantee ensures that the client's needs may be met and problems or concerns can be addressed. Also, the incentives that come along with this product are quite helpful to those who really wish to have healthy joints. We like the ingredients included in this product but feel that they could have easily been strengthened with warming herbs such as Turmeric and Holy Basil among other things, which would be an easy addition. The potency of the active ingredients is not optimal and if a sufferer is battling more than the average joint pain, it is best to look for something with more total-care, addressing causal factors of bad joints, as well as, dealing with associated symptoms.
To learn more about our Top Joint health products, click here.
Mark Stevens
reviewed on and gave it a rating of
3
.