The #4 Rated Joint Product: Carlson Labs Nutra
Carlson Labs Nutra - #4
Joint Product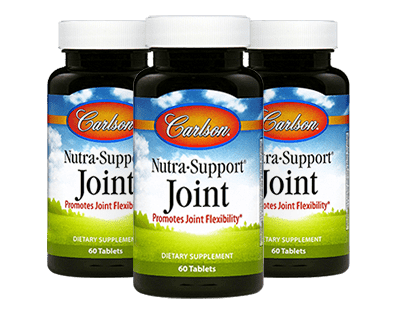 Supplement Facts
Servings Size: 3 Tablets
Servings Per Container: 30
Amount Per 3 Tablets
%DV
Potassium (supplied by glucosamine)
250mg
7%
Chondroitin Sulfate
1,500mg
**
Glucosamine Sulfate (from glucosamine sulfate KCl) †
1,500mg
**
MSM (Methylsulfonylmethane)
300mg
**
** Daily Value (DV) not established
Other Ingredients: Stearic acid, microcrystalline cellulose, croscarmellose sodium ethylcellulose, pharmaceutical glaze, magnesium stearate, silicon dioxide, dicalcium phosphate.
Carlson Labs Nutra-Support Joint is our #4 ranked product. According to the manufacturer, this product works to promote healthy joint function and flexibility.*
EDITOR'S RATING
25 User Reviews
Introduction
In our #4 ranking is the product Carlson Labs Nutra-Support Joint. We have chosen to review this product because many people now prefer to use dietary supplements for their joint needs instead of prescription medication. This product uses natural ingredients and offers a good explanation about how they positively affect the joints. According to the manufacturer, this supplement may promote healthy joint function and flexibility utilizing ingredients such as glucosamine sulfate, chondroitin sulfate, and MSM sulfur. Please read on if you would like to know more about this supplement.
Ingredients
Glucosamine Sulfate
Chondroitin Sulfate
MSM Sulfur
Potassium
Other inactive ingredients include: Stearic acid, microcrystalline cellulose, croscarmellose sodium, ethylcellulose, pharmaceutical glaze, magnesium stearate, silicon dioxide, dicalcium phosphate, crab and shrimp.
Dosage
This product comes in the form of tablets. According to our sources, the recommended dose is three tablets daily. You should take one in the morning, one in the afternoon, and another one at night. Every tablet must be taken with meals. The product should be tightly and properly closed after opening and must be stored away from direct heat.
Possible Side Effects
We have not yet seen any reviews from the product's official website and neither has the site mentioned any possible side effects. However, since the product itself contains crab and shrimp, people who suffer allergic reactions should stay away from this product.
Price
The price of the product depends on the number of tablets potential clients want to purchase. For a 60-tablet bottle, the price is $29.90, a 120-tablet bottle is $56.50, a 180-tablet bottle is $82.00. So far, the manufacturers have not yet introduced any discounts for this product. They do offer free shipping on all orders that are over $40.
Guarantee
The manufacturer itself, Carlson Labs, has not specified any guarantees. This product is also sold through Swanson Health Products who do offer a money back guarantees if clients are not satisfied with the products they purchase. They must pay the return shipping fee if they request a refund. Swanson Health Products has not specified how many days its money back guarantee is valid for.
Conclusion
Although the ingredients mentioned above are considered to be effective and essential for optimizing good joint health, we believe there are some key natural ingredients missing from this formula. Warming ingredients for soothing relief such as Holy Basil, Ginger, Turmeric and White Willow are all instrumental in a total care solution to support healthy joints. Also, we didn't like that the manufacturer cut corners using ingredients that may be cheaper but are allergy-prone. They should take seafood allergies into consideration since there are a lot of people who are allergic to them and it's not very difficult to produce supplements that are allergen-free. We thought that this product was a bit expensive especially since there are no discounts to lower the price. We also did not like that there were no consumer reviews to gauge the overall effectiveness of this product and that there was no money back guarantee provided by the manufacturer.
To learn more about our Top Joint health products, click here.
Mark Stevens
reviewed on and gave it a rating of
3
.