The #3 Rated Joint Product: Exomine
Exomine - #3
Joint Product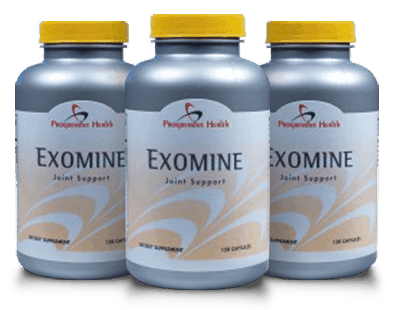 Supplement Facts
Servings Size: 4 Capsules
Servings Per Container: 30
Amount Per Serving
%DV
Vitamin C (Ascorbic Acid)
250mg
417%
Vitamin B3 (Niacin)
10mg
50%
Boron (Chelate)
1mg
*
Glucosamine HCl
1500mg
*
Methylsulfonyl Methane
800mg
*
Boswellia Serrata Ext. (leaf) Boswellia Serrate
100mg
*
Ginger (root) Gentiana Lutea
100mg
*
Cat's Claw (bark) Uncaria Tomentosa
25mg
*
Tumeric (root) Curcuma Longa
10mg
*
Grape Seed Ext. (seed) Vitis Vinifera
25mg
*
BioCell Collagen II®
500mg
*
Chondroitin Sulfate
100mg
*
Hyaluronic Acid
50mg
*
Other Ingredients: Vegetarian Capsule (Hypromellose), Rice Powder, Magnesium Stearate.
*Daily Value (DV) not established
Exomine is our #3 ranked product because it is a product that works non-invasively and is made from mostly natural ingredients supported by science.* This product is specifically targeted for stiff joints.*
EDITOR'S RATING
31 User Reviews
Introduction
This is a product review for Exomine. We have chosen Exomine – Remedy for Stiff Joints – for our #3 spot because it is a product that works non-invasively and is made from mostly natural ingredients. This product is specifically targeted for stiff joints. The manufacturers of this product are quite clear with the ingredients that they have used in making Exomine, thus enabling the consumers to know for themselves what ingredients are contained in this supplement. If you are wondering if this particular product is right for you, please keep reading this review.
Ingredients
Exomine is made up of mostly natural ingredients as detailed.
Vitamin C (Ascorbic Acid)
Vitamin B3 (Niacin)
Boron (Chelate)
Glucosamine HCl
Methylsulfonyl Methane
Boswellia Serrata Ext. (leaf)
Ginger (root) Gentiana Lutea
Cat's Claw (bark) Uncaria Tomentosa
Turmeric (root) Curcuma Long
Grape Seed Ext. (seed) Vitis Vinifera
BioCell Collagen II®
Chondroitin Sulfate
Hyaluronic Acid
Other ingredients: Vegetarian Capsule (Hypromellose), Rice Powder, Magnesium Stearate, crustacean shellfish.
Dosage
Exomine is a dietary supplement that comes in the form of an oral capsule. It is recommended to take it twice a day, two capsules should be taken in the morning and another two capsules in the afternoon (4 capsules total a day) along with 8 ounces of water. To attain the best results, continuous use of this supplement for 45-60 days is necessary before results appear.
Possible Side Effects
As of now, the manufacturers of this product have not mentioned any potential contraindications to using this supplement. Additionally, there have not been any reviews of clients who have experienced undesired effects from taking this supplement. The only possible reaction cited is the source of glucosamine, which might be derived from shellfish. Those that are allergic should not use this product.
Price
Clients have three choices when it comes to deciding how many bottles to buy. If you wish to buy a month's supply, it will cost you $59.95. If you choose to purchase 3 bottles, it will cost $179.95 and you will receive one bottle free. Their latest promo is that you will get free shipping if you choose to buy four bottles for the price of $239.80 and you even get two bottles for free with this option. The prices of the last two options have been discounted according to the product's official website.
Guarantee
The manufacturers offer a 180-day money back guarantee if the client does not attain the desired results. They will issue an immediate refund, minus the shipping costs. According to what we have read on the consumer reviews that have been posted on the product's own website, many claimed that Exomine has helped them greatly in the relief of pain that from degenerative joint conditions.* 9/10 customers are satisfied with the results they have attained in using this supplement,* and have even compared it to conventional medications used for common joint problems and have claimed that Exomine is by far one of the best out there.* That said, we wouldn't expect to find bad reviews on the product's website.
Conclusion
The 180-day money back guarantee is a big plus for consumers out there who want a good working relationship with the manufacturers, especially when the desired results are not met. This is especially important so that the manufacturers will have a clear idea what the consumers' needs and which improvements should be made if any. Also, they offer a very transparent view on what ingredients they have used in making their product. This product is specifically targeted for stiff joints, and we felt that it should have included ingredients that also dealt with other issues such as pain. We would have also liked to have seen more consumer reviews that were not only located on its official website.
To learn more about our Top Joint health products, click here.
Mark Stevens
reviewed on and gave it a rating of
3
.